The lockdown has offered us the perfect time to look after ourselves. While we fight the pandemic with a healthy immune system it is always equally important to make yourself feel good. One of the ways of doing this is by making sure you take care of your skin. This will automatically bring up your mood. So, if you are with us in this skin transformation journey then here are 5 natural skincare products that will give you radiant skin.
Golden Glow Peel Off –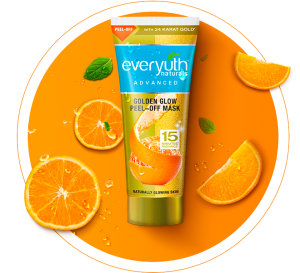 While your favorite facial waali Aunty is currently unavailable and since you are sitting at home with plenty of time on hand, why not give yourself a refreshing facial? A home-facial with 24 Karat Gold Collagen boosters and Orange Peel extract, the Golden Glow Peel-off mask works wonders on your skin. It gently peels away the dead skin cells and dirt from the skin pores, stimulates blood circulation and oxygen supply, while at the same time helps in boosting the production of collagen. In a matter of 15 minutes, you will see your skin glowing.
Tulsi Turmeric Face Wash –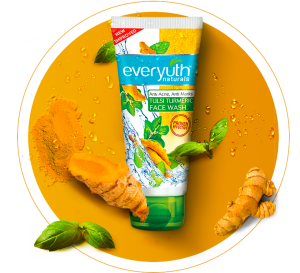 Can't seem to get rid of those stubborn pimples and marks on your face? We've got the perfect natural face wash for you. Everyuth's Tulsi Turmeric Face Wash is enriched with the goodness of Tulsi, turmeric, Brahmi, Willow Bark Extracts & Tea Tree oil. It also helps reduce blemishes and dark spots. The face wash is a blessing for all those who are looking for a permanent solution for their pimples and marks as it helps regulate sebum production and revitalizes skin cells.
Walnut Scrub –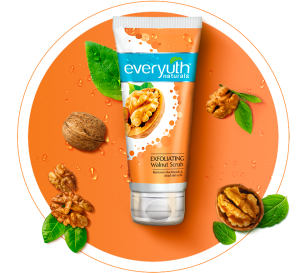 Exfoliation is an extremely crucial part of your daily skincare routine. If smooth, glowing skin is your goal then Everyuth's walnut face scrub is what you need. Scrub away those blackheads and dead skin cells with the walnut scrub, filled with the goodness of walnut shell particles and Vitamin E. Cleanse your pores with this easy-to-use scrub and give your face a delightfully, radiant glow.
Neem Face Pack –
A great anti-bacterial and natural solution for all your skin woes, the neem face pack is filled with natural ingredients like Neem, Tulsi, and Sandalwood. This helps cleanse the skin thoroughly, prevent acne, blemishes & excess oil secretion. If you are wondering whether you can use the neem face pack daily then for best results, use this pack twice a week and you'll see a magnificent change in your skin texture.
Micellar Cleanser –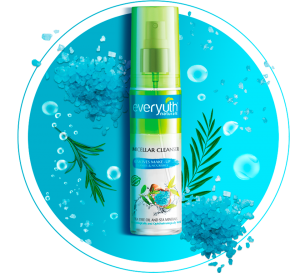 A revolutionary makeup remover that also hydrates and nourishes your skin, Everyuth's Micellar Cleanser is the product your skin needs after it has been loaded with makeup and other products. Enriched with tea tree oil and sea minerals, this is a 2 in 1 solution that can be used to get rid of water-proof makeup too. This face cleanser is sure to leave your skin feeling fresh, pure, and light.
With things going back to normal, your skin will need to adapt to the change as well. These 5 products ensure that your skin is ready for it. Filled with natural ingredients, Everyuth products are the perfect solution for all your skin woes.