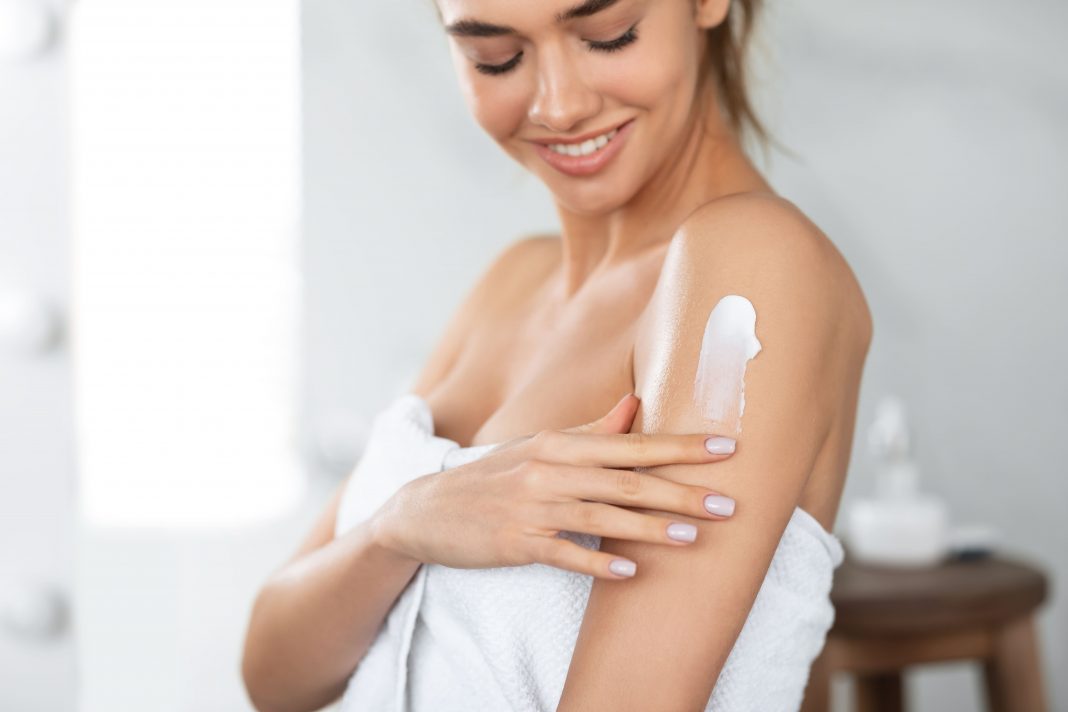 Envelope yourself in the luxurious embrace of almond milk body lotion for skin, a true treat your body will love. It radiates care and affection thus leaving your skin looking supple and youthful. Enriched with the wholesome nourishment of almonds, these hydrating body lotions offer more than hydration; they help you restore and replenish your skin's natural moisture balance. The calming properties of almond milk can even soothe irritation and leave your skin feeling refreshed.
Poof! Goes your fear of stepping out of your home and exposing your skin to the sun's wrath. Everyuth's collection of body lotions, all enriched with almond milk, stand as paragons of excellence – each a fit to win the title of the best body lotion with SPF available in the market.
1. Nourishing Cocoa Body Lotion: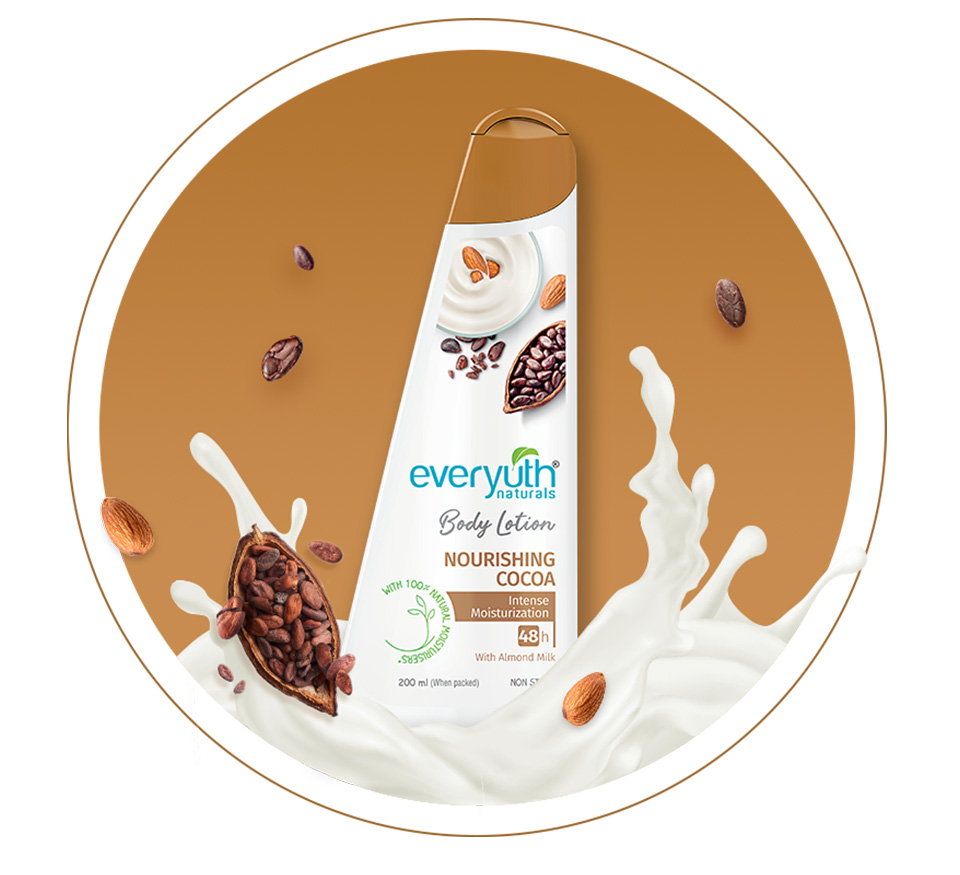 Everyuth's Nourishing Cocoa Body Lotion is an intensive moisturising body lotion giving 48 hours moisturised skin. Infused with the goodness of almond milk and the richness of cocoa, this lotion offers a comprehensive skincare experience. The unique blend also works wonders to improve your skin tone, lending a natural radiance that shines through. Moreover, almond milk helps the lotion act as a protective barrier that shields your skin from environmental stressors. If you are scouting for the best body lotion for dry skin, you have reached your destination. Get ready to wrap your skin up in hydration.
2. Rejuvenating Flora Body Lotion:
Everyuth's Rejuvenating Flora Body Lotion is the ideal rejuvenating body lotion for daily use, transporting you to the essence of blossoming flowers capturing the spirit of nature's renewal. Enriched with almond milk, it revitalises and restores your skin's innate glow. Upon application, a gentle floral fragrance envelops you, enhancing your senses with a rejuvenating embrace. Infused with the goodness of almond milk, this lotion empowers your skin with its refreshing essence, leaving you with a renewed vitality and a radiant aura.
3. Soothing Citrus Aloe Body Lotion:
Everyuth's Soothing Citrus Aloe Body Lotion invigorates your senses with its harmonious blend of zesty citrus, soothing aloe, and hydrating almond milk. This non-sticky body lotion goes beyond hydration, offering a calming sensation that's perfect for post-sun care. The uplifting citrus aroma elevates your mood, while aloe's soothing touch heals irritation, leaving your skin refreshed and revitalised. Indulge in the dual rewards of hydration and comfort as you pamper your skin with this revitalising, daily-use lotion.
4. Sun Care Berries Body Lotion: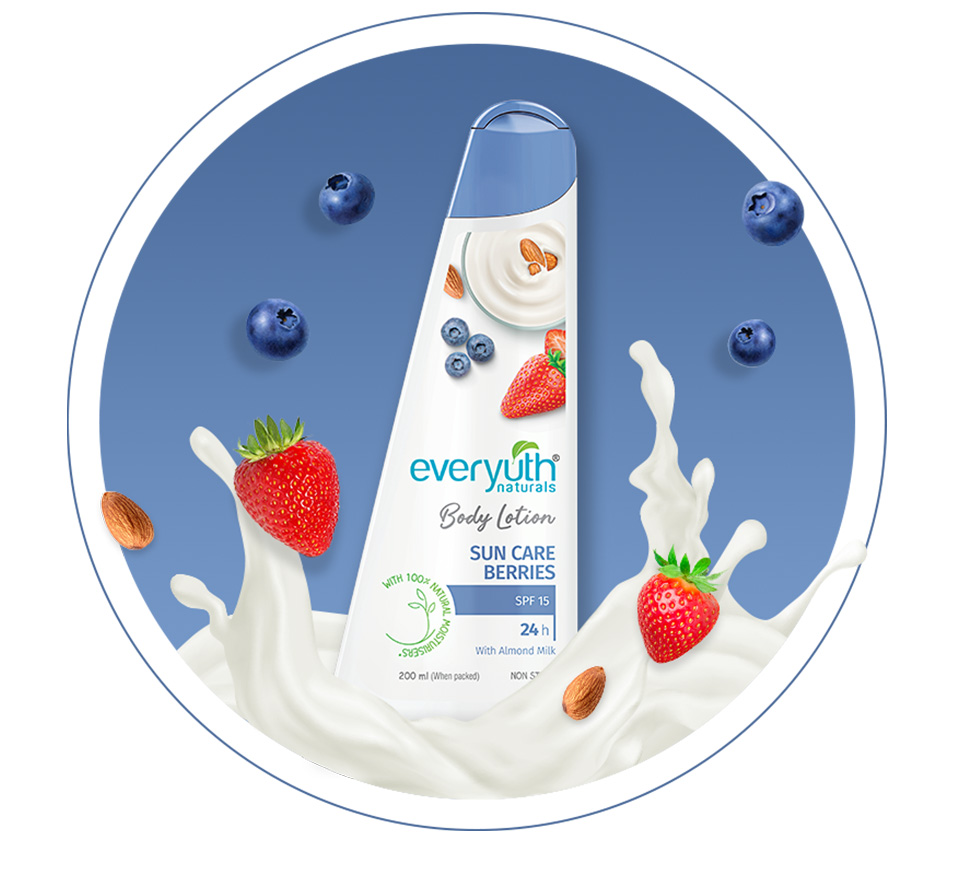 Shield your skin from the sun's harmful rays with Everyuth's Sun Care Berries Body Lotion. Infused with almond milk and the goodness of juicy berries, this sun care body lotion has SPF 15 offering more than just hydration. It provides sun protection while enveloping your skin in a delightful berry fragrance. Experience the combined effect of protection against UV rays and wholesome nourishment, both in one, with this elixir. This lotion is not just a skincare product; it's a comprehensive solution that cares for your skin's well-being.
Body lotion benefits are taken to new heights with the enriching essence of almonds in all our body lotions. Nourishing and soothing, Everyuth's almond body lotions offer a symphony of skin care advantages. From deep hydration to improved skin tone, protection against environmental stressors to a reduction in inflammation, these lotions combine nature's best with scientific innovation. Embrace the timeless treasures of almond milk and encapsulate your skin in a luxurious experience. Elevate your self-care routine with Almond Body Lotions, and let your skin revel in the indulgent care it deserves with Everyuth.
Also Read– The Role of Body Lotion in Your Skincare Routine
FAQs:
Is almond body lotion suitable for all skin types?
Yes, almond body lotion is suitable for all skin types. Its lightweight formula provides nourishment without clogging pores, making it gentle and effective for everyone to enjoy.
Can almond body lotion be used as a daily moisturiser?
Absolutely, almond body lotion is an ideal daily moisturiser. Its nourishing properties hydrate and soothe the skin and make it a versatile choice for consistent use in your skincare routine.
Does almond body lotion brighten skin?
Yes, almond body lotion can contribute to skin brightening. Its hydrating properties, combined with vitamins and minerals, can enhance any skin tone and radiance over time.
Do body lotions with SPF provide sun protection?
Yes, body lotions with SPF offer sun protection. They create a barrier against harmful UV rays, reducing the risk of sunburn and long-term skin damage when applied correctly.