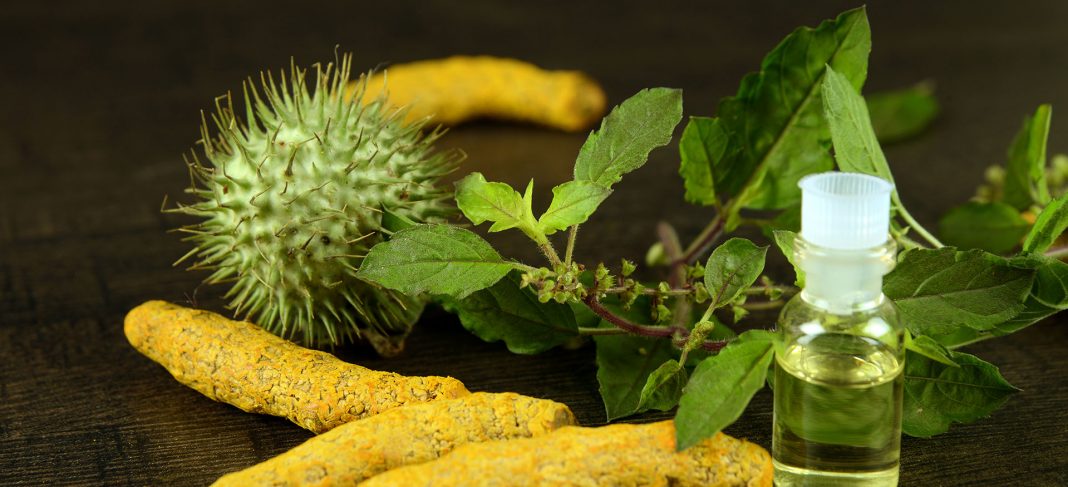 Our skin often bears the brunt of pollution, weather, and lifestyle choices. And while we are ever so willing to try everything under the sun to tackle these issues, what we fail to understand is that the answer to perfect skin is to go natural. There are plenty of natural ingredients that can come to your rescue and one such herb is Tulsi. Packed with vitamins, electrolytes, minerals and nutrients, Tulsi has the means to transform your skin for the better.
What does tulsi do for skin?
Tulsi or Holy Basil is especially known for its healing properties and is packed with disease-fighting antioxidants. Along with curing medical ailments, it is also excellent for skincare. Here are some of the many benefits of Tulsi for skin:
The essential oil in tulsi helps in cleansing the skin from within. It is an excellent cleanser for the ones with oily skin. Its antibacterial and antifungal properties naturally fight acne and skin irritation. It also contains essential vitamins that help lighten acne scars and dark spots.
Other than this Tulsi also helps bring back your skin's natural glow and help revive your skin's bright complexion. A great addition to your skincare routine, this natural ingredient can definitely change the way your skin looks & feels.
Here's why you must add it to your skincare regimen:
Cleanses your skin: Tulsi is known for its antibacterial and antifungal properties making it a great cleanser.
Anti Acne, Anti Marks: Tulsi mixed with Turmeric not only helps fight Acne causing bacteria but also heal acne marks
Anti-ageing properties: Tulsi is packed with antioxidants that prevent skin damage and premature ageing of the skin.
Gives you an even skin tone: With anti-inflammatory properties and antioxidants, Tulsi helps lighten your skin tone and bring back your skin's natural glow.
Another natural ingredient with skin healing properties is turmeric. Haldi or turmeric has the ability to protect against sun damage and aging. It hydrates and revitalizes the skin and protects the skin from further harm. It also helps reduce dark circles and is loaded with minerals that are essential to our body.
In today's time, our lifestyle is such that maintaining a regular skincare routine is almost next to impossible. But, nevertheless, a skincare routine is absolutely essential. Basic skin care starts with cleansing or washing your face regularly. Using a face wash with Tulsi and Turmeric as its core ingredients will do wonders for your skin.
Some of the benefits of using Everyuth's Tulsi Turmeric Face Wash are:
Everyuth

Tulsi Turmeric Face Wash

is a clinically tested

anti marks

&

anti-acne fash wash

that deeply cleanses your skin.

It is the

best face wash for acne marks reduction

.

It is also an excellent choice of

face wash for pimples

and other skin related problems. Apart from washing away surface impurities, it also tackles blackheads and unclogs pores.

Tulsi for face pimples

is known to have several benefits for your skin and not only help keep pimples at bay but also nourish your skin and make it healthy.
Using this Tulsi Turmeric face wash is very easy. You simply have to:
Wet your face with warm water.

Apply Everyuth Naturals

Tulsi Turmeric Face Wash

.

Exfoliate your skin gently.

Rinse your face and pat it dry.
Healthy and vibrant skin is everyone's dream. All good dreams take time to come to life, so being consistent with your skincare routine is important. It takes time for your skin to look its best. And choosing the right products with natural ingredients for healthier skin is a safe place to start. Enriched with the goodness of both Tulsi and Turmeric instead of synthetic chemicals, Everyuth Naturals Tulsi Turmeric Face Wash is the best anti-acne face wash to have clear, radiant skin.
Also Read: 10 Ways of Fighting Pimples with Tulsi & Turmeric