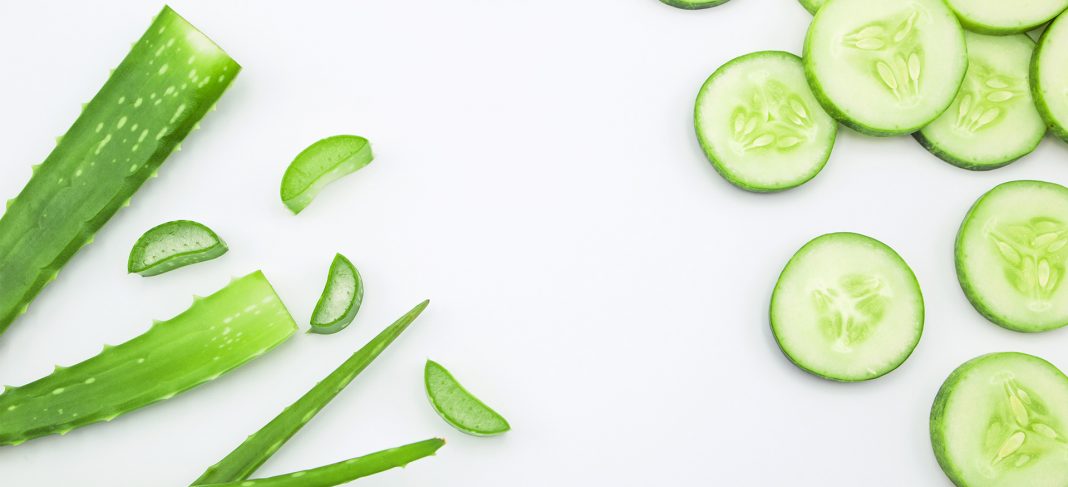 The benefits of Aloe Vera are not unknown. A succulent that is easy to grow at home, this plant is super beneficial. The Aloe Vera gel is especially known for its soothing and healing properties that have really popularized Aloe Vera in skincare. With the summer right around the corner, it is time to provide your skin with the cooling and calmness of the Aloe Vera gel for face. Let's deep dive into everything from the benefits of using Aloe Vera gel on the face to how to use Aloe Vera gel.
Why Should You Use Aloe Vera For Your Skin?
Everyuth's Aloe Vera & cucumber gel brings to you the goodness of fresh and natural ingredients that nourish your skin and calm it all through the year. Here are some of the uses of Aloe Vera:
Treats sunburn
Enjoying the sun by the beach comes with its repercussions. The sun damages the skin in multiple ways like a stubborn tan or sunburn. Everyuth's Aloe Vera & cucumber gel is an effective remedy for soothing irritated skin from the onslaught of UVA & UVB rays. Both the ingredients are a great source of antioxidants which will heal your skin with repeated use.
Excellent moisturizer
Cucumbers are known for their high water content and Aloe Vera is known for its hydrating properties. Whether your skin is dehydrated or dry, the Aloe Vera & cucumber gel gets quickly absorbed by the skin and leaves it well-hydrated and healthier. Moreover, unlike heavy moisturizers, the Aloe Vera gel does not clog pores thereby preventing acnes and break outs.
Heals wounds & scars
If you have recently suffered an accident or a fall, then the Aloe Vera gel has the ability to boost the healing of the wound and scars. Even rashes and blemishes can be subdued by the nourishing gel. Moreover, if you have an inflammation on the skin, applying a thin layer of the gel can improve the condition.
Loaded with nutrients
Aloe Vera is loaded with nutrients like beta carotene, Vitamin C & Vitamin E. These nutrients are great for fighting premature skin ageing and promoting healthier & youthful skin. Regular application of the gel will leave you with smoother and softer skin. Aloe Vera also promotes the production of collagen, and its anti-microbial and anti-inflammatory properties together make it an excellent ingredient for the skin.
How To Incorporate Aloe Vera Into Your Daily Skincare Routine?
There are different ways of including the Aloe Vera & Cucumber gel into your daily skincare regimen:
1. The gel can be used as an excellent moisturizer that can be applied to your face, legs and hands after a shower and before you hit the bed. So, while you sleep your skin gets the nourishment it needs.
2. You can also use the gel as a mask and gently apply it on your skin daily. Simply, cleanse that area of the your skin and apply the gel.
The Aloe Vera & cucumber gel is a simple yet effective skincare product that your skin will absolutely thank you for pampering it with. The blend of two cooling, natural ingredients in one product is what makes the gel so popular. So, what are you waiting for? Get your hands on this amazing skincare product, STAT!

FAQ's
What is the importance of Aloe Vera on face?
Aloe Vera has a multitude of benefits for the skin. Applying it regularly on the face can uncover your skin's natural glow and ensure your skin looks and feels healthy.
Is it good to use Aloe Vera gel on your face daily?
Aloe Vera gel is a natural and soothing gel that can be used everyday. It is a non-sticky and lightweight formulation that will not leave your skin feeling greasy. This means you can freely use the gel as many times as you like it.
What are the benefits of Aloe Vera Gel?
The Aloe Vera gel moisturizes the skin, heals scars & wounds and enriches the skin with nutrients that will leave it feeling healthy and softer.