If there's one ingredient that works wonders for all skin types and multitasks like a pro, it's hands down, the humble Aloe Vera. A natural ingredient that is now gaining popularity and is recognized for its multiple benefits for skin and hair. Everyuth's Aloe Vera and Cucumber Gel is the perfect combination of 100% natural aloe vera and pure cucumber extracts and we are here to give you the much-needed scoop on this natural, calming, and soothing gel.
Here's a lowdown on the benefits of aloe vera gel and why you should carry Everyuth's Aloe Vera & Cucumber Gel in your bag as a quick rejuvenating and soothing application for your skin to heal and nourish. Check out some of the aloe vera uses that will make your skin happy and healthy.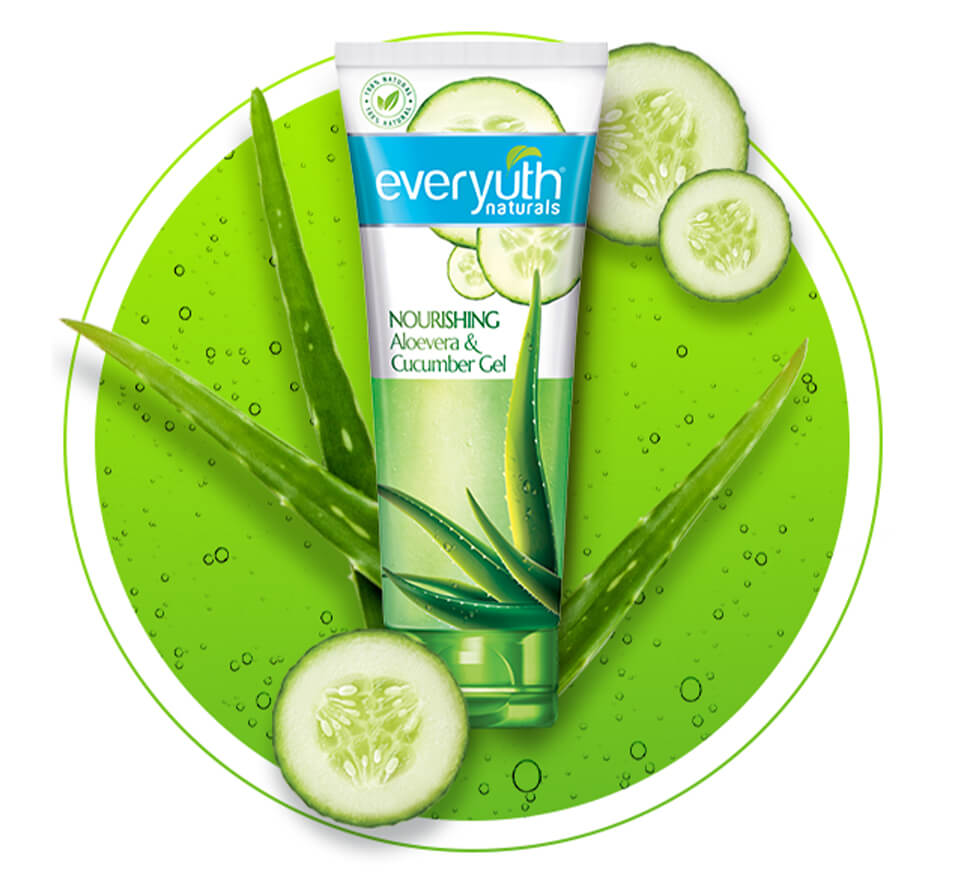 · All Natural Aloe Vera:
The aloe vera and cucumber soothing gel by Everyuth has 100% natural Aloe vera that helps keep your skin hydrated, nourished, and glowing.
· Cooling and Rejuvenating:
Aloe vera and cucumber – both make for the perfect blend as they have cooling and soothing properties. Apply the gel on your face, let it work its magic and you will feel that your skin is rejuvenated and fresh.
· Stimulates Skin Regeneration:
Aloe vera helps increase collagen production. In this way, it also keeps your skin looking radiant, youthful and helps put off wrinkles and fine lines.
· Anti-inflammatory:
Aloe vera and cucumber help soothe inflamed skin which is why this gel works great for minor abrasions, dark spots, scars, burns, and more.
· Aloe Vera For Acne:
Owing to their anti-microbial and anti-inflammatory properties, the two make that way for ideal combination to fight acne and acne-causing bacteria.
· Enhance Your Skin Complexion:
Aloe vera is the best natural moisturizer. Over time with multiple applications, the aloe vera and cucumber gel can improve the way your skin looks and feels.
Get your hands on this easy, uncomplicated skincare product and use it every day to transform your skin from drab and dull to absolutely fab and gorgeous!