Chocolate is known for its capability to make anyone cheat on their diet. A sinful treat, chocolate has been gorged on for decades. However, not many are aware of this sweet treat's benefits for the skin. We bring to the forefront how this delicious ingredient is a great addition to your skincare routine and how you can use it to get the perfect glow.
· An antioxidant powerhouse
Antioxidants help reduce the damage caused to your skin by free radicals from environmental toxins, household chemicals, UV rays and more. Cocoa is rich in antioxidant flavonoids. These antioxidants can even help repair skin damaged by UV sunlight.
A great moisturizer
Cocoa beans are packed with fatty acids which are naturally nourishing and leave your skin feeling soft and pampered.
· Turn back the clock with cocoa
Cocoa is great when it comes to mitigating the appearance of wrinkles and scars. Rich in minerals and Omega 6 fatty acids, chocolate helps in skin healing at the cellular level. It also boosts blood flow and hydration of the skin which helps in achieving a younger-looking complexion.
If you are looking out to include this ingredient in your skincare regimen then Everyuth's tan removal product is a collection of skincare range that is rich in chocolate and cherries and helps fight skin tanning. It brings together the best of both these fresh and natural ingredients for your skin to replenish and recover from the sun's rays.
Tan Removal Face Pack
This face pack to remove tan is great for an uncomplicated and easy remedy. Made with vitamin-rich cherries and detoxifying chocolate, the tan removal pack makes the skin look visibly brighter, fresher and revitalized.
Tan Removal Scrub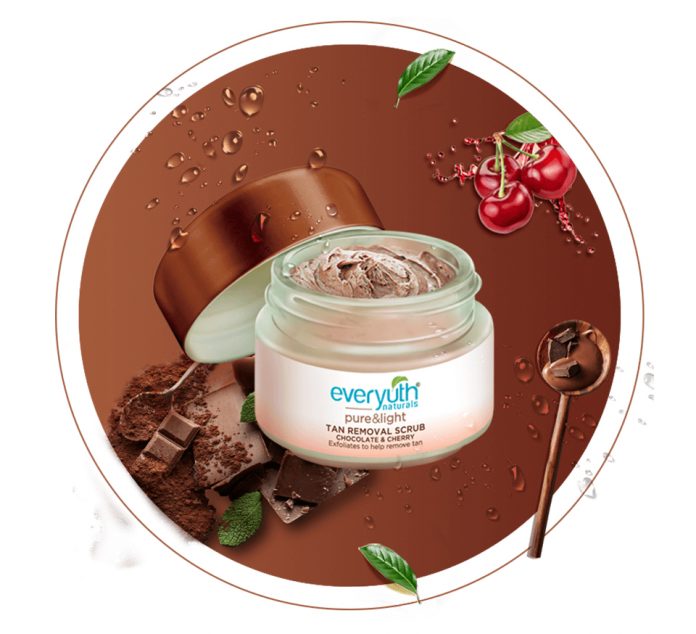 Nothing works better than a scrub for tan removal. However, it is important to understand that the scrub shouldn't be too harsh on your skin and does the work without stealing away the skin's moisture. Everyuth's tan removal scrub for the the face is the best as it consists of natural ingredients like chocolate and cherries that do not harm the skin and instead help bring back your skin's natural glow.
With so many benefits for the skin, chocolate is one of the most helpful natural ingredients in your journey to achieve youthful and radiant skin. Also, what better way to enjoy this delicious treat than this where you don't even put on a gram of weight indulging in chocolate 😛